Chocolate Milk: The "New" Recovery Drink
March 23, 2012
(click here for a 1-page .pdf of this newsletter)

Sports drinks grossed $4 billion in sales in 2011 while energy drinks topped $9 billion. According to the American Academy of Pediatrics, however, "energy drinks have no therapeutic effect" because of their high caffeine levels while sports drinks' problems lie in high levels of sugar and sodium.

Now research is starting to show milk to be an affordable and nutritious recovery drink.

In this 2008 study:


Cyclists rehydrated after 3 hours of cycling much faster when drinking milk compared to a sports drink, leading the researchers to conclude:


In this 2011 study:


Male soccer players drinking 8 ounces of chocolate milk had 33% longer running times to exhaustion than those drinking 8 ounces of Gatorade (8.31 vs 6.24 minutes), causing the researchers to conclude that:



Finally, a 2011 study recommending nutrition for Combat Sports athletes concluded that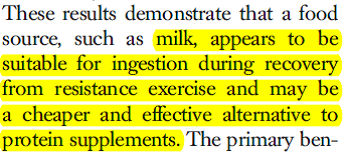 Have a Question About This Newsletter?

Email ([email protected]) or call (631-352-7654) Dr. Arnold!