Alfalfa: "The Father of Foods"
August 7, 2008
(click here for a 1-page .pdf of this newsletter)
While the word "Alfalfa" frequently evokes this image, alfalfa is known as both "king of the herbs" and "the father of all foods" because of its remarkable nutrition.

Alfalfa is high in:

Because the roots of the alfalfa plant go 40-60 feet down, they are very high in minerals including

If you can't eat alfalfa, I highly recommend NOW Foods Alfalfa Powder as your most bang-for-your-buck nutrition powder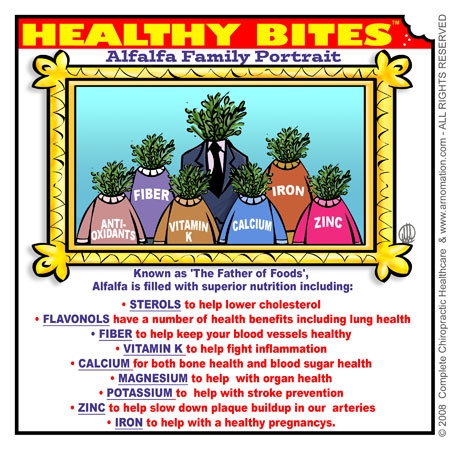 (Thanks to my brother Mike for the artwork!)


Have A Question About This Newsletter?
Call (631-352-7654) or email ([email protected])
Dr. Arnold!