Honey: The First Antibiotic
June 17, 2008
(Click here for a 1-page .pdf of this newsletter)

Honey was recommended by Hippocrates for ulcers and used for thousands of years as a medicine.

Due to the use of modern antibiotics, however, its medicinal benefits have been forgotten for 60 years.


But honey was mostly likely our very first antibiotic.

Honey contains Antioxidants. Just like chocolate (which helps your heart), the darker the honey the higher the level of antioxidants.





CAUTION!

Do Not Give Honey To Infants < 1 Year of Age. Infants do not contain enough stomach acid to kill the bacterium Clostridium botulinum that can cause severe food poisoning.

What Do The Different Grades Of Honey Mean?

Honey is graded on a scale from 1 to 100 based on 3 factors: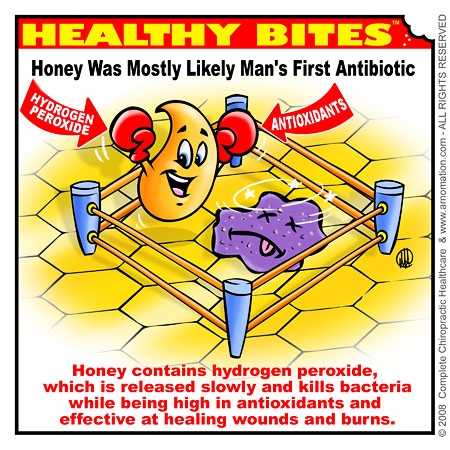 Have a Question About This Newsletter?
Email ([email protected]) or call (631-352-7654)
Dr. Arnold!