October Health News Review
October 2, 2015
Dr. Arnold's latest Pitching Newsletter - The Mind of A Champion
#5 - Women with moderate beer consumption run lower risk of heart attack - ScienceDaily September 24, 2015
"Women who drank beer once or twice per week to once or twice per month ran a 30% lower risk of a heart attack than women who drank beer several times per week/daily or never drank beer. Moderate consumption of beer thus seems to protect women from heart attacks."
#4 - Women exposed to organic pollutants in early pregnancy have more than four-times increased risk of gestational diabetes - ScienceDaily September 15, 2015
"As countries around the world deal with an increasing prevalence of gestational diabetes, the findings are important from a public health perspective as knowledge of environmental risk factors could help to reverse this trend."
#3 - Low vitamin D among elderly associated with decline in cognition, dementia - ScienceDaily September 14, 2015
"Over five years of follow-up, vitamin D deficient individuals experienced cognitive declines that were two-to-three times faster than those with adequate serum vitamin D levels. In other words it took only two years for the deficient individuals to decline as much as their counterparts with adequate Vitamin D declined during the five-year follow-up period."
#2 - Extra hour of screen time per day associated with poorer GCSE grades - ScienceDaily September 3, 2013
"Each additional hour per day of time spent in front of the TV or online at age 14.5 years was associated with 9.3 fewer GCSE points at age 16 years -- the equivalent to two grades in one subject (for example from a B to a D) or one grade in each of two subjects, for example. Two extra hours was associated with 18 fewer points at GCSE...pupils doing an extra hour of daily homework and reading achieved on average 23.1 more GCSE points than their peers."
#1 - Struggles with sleep may affect heart disease risk - ScienceDaily September 10, 2015
"Adults with poor sleep quality have stiffer arteries than those who sleep seven hours a day or had good sleep quality. Overall, we saw the lowest levels of vascular disease in adults sleeping seven hours a day and reporting good sleep quality." -Dr. Yoosoo Chang

Testimonial of the month:
"Within 1 week, I was able to go swimming and walked 3 miles with no pain."
-Marty, Commack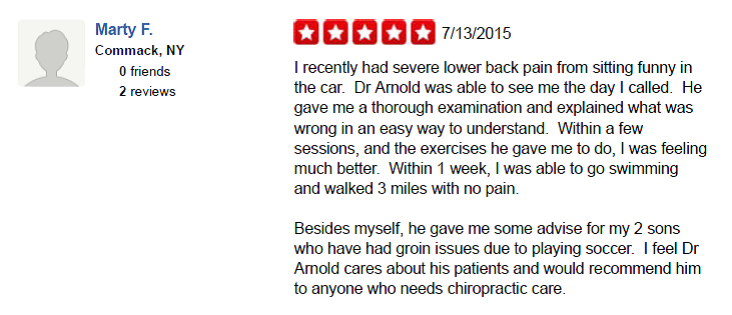 Have A Question About This Newsletter?
Contact (631-352-7654 / [email protected]) Dr. Arnold!